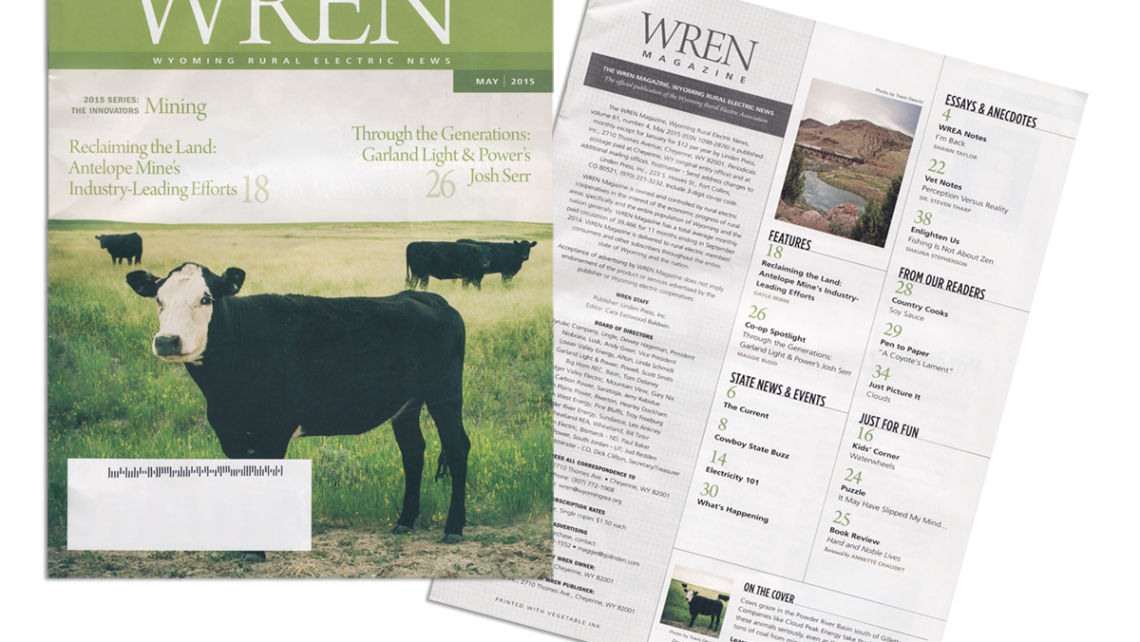 WREN Magazine
One of the biggest honors as a photographer is having one of your photos grace the cover of a publication. WREN Magazine contacted me for photography that showcased Wyoming. The image they used was one of my agricultural stock images of a few beef cattle on the open range. These are Black Baldys which are a crossbreed between a Black Angus beef and a Hereford beef. I included a snippet about WREN Magazine below.
---
Wyoming Rural Electric News (WREN) Magazine has been the news source for Wyoming co-op member-owners since 1954. With an average monthly distribution to 41,000 households, businesses, and organizations, WREN is the largest publication by circulation in the state.
WREN helps rural electric customers stay abreast of issues affecting their cooperative membership, while promoting Wyoming lifestyles through feature stories and general interest information. – WREA Website
---
Agriculture Industry Photographer
I have been drawn to farms and the agricultural industry since I was a child. Born and raised in the dairy state of Wisconsin has something to do with that cultivation. One of my earliest memories of farm life was riding in the front seat of my uncle's old cab over semi as he hauled a load of corn to the local grain elevator. I remember the dust in the air on that hot summer day. Any drive in the country resulted in seeing dairy cows and a landscape dotted with red barns. Many of these small occurrences have led to my love and respect for the farmers and ranchers that are the heart of America.
I have a lot of agriculture related stock photography available offline and online, but many marketing firms prefer their own specific agricultural industry photography for commercial use. The process requires me to capture original photography to meet their needs and art direction. It is a job I highly enjoy and relate too.