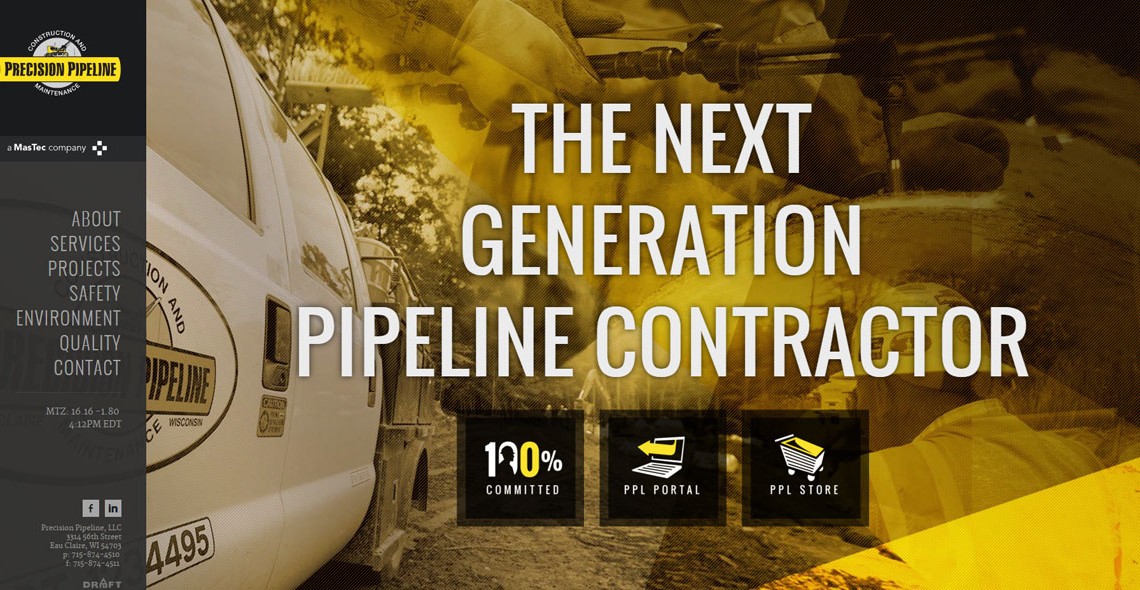 Do You Need
Commercial Photography

for Your Website Redesign?

Having updated images that flow seamlessly together is a keen way to jumpstart your website redesign or new branding campaign. I find myself personally spending more time on websites that have quality professional photography that maintain a consistent look. Since I am a photographer, I of course, notice the photography that is on each site.
---

"Consumers arriving at a website may not be actively looking for photos of a business, but a picture speaks a 1,000 words and images convey a lot about a business and the people who run it and work there.  We wanted to understand how much Trust consumers attribute to a local business based on the quality and content of the images they display on their website.

The key question we wanted to answer is –  Are images a powerful trust factor on a local business website?" – www.brightlocal.com

---
The example I am using here is from the Eau Claire, Wisconsin company, Precision Pipeline. Precision Pipeline is a liquid and gas pipeline construction and maintenance contractor that works throughout the United States. They are the first pipeline contractor uniquely designed to successfully and efficiently work within today's more stringent pipeline construction parameters. I worked with them to capture images for a range of uses that they needed, including a new designed website. I traveled on multiple pipeline job sites in Michigan, New York, and Pennsylvania to secure the necessary elements that showcased their brand. They chose active pipeline construction sites in different stages of construction that demonstrated a wide variety of work that they do. That ended up being a successful strategy for our partnership together. Their new website is amazing and carries a consistent brand message with the use of their colors and inspired use of images. Draft Design House from Eau Claire was the creative web team that built their new branded and responsive website.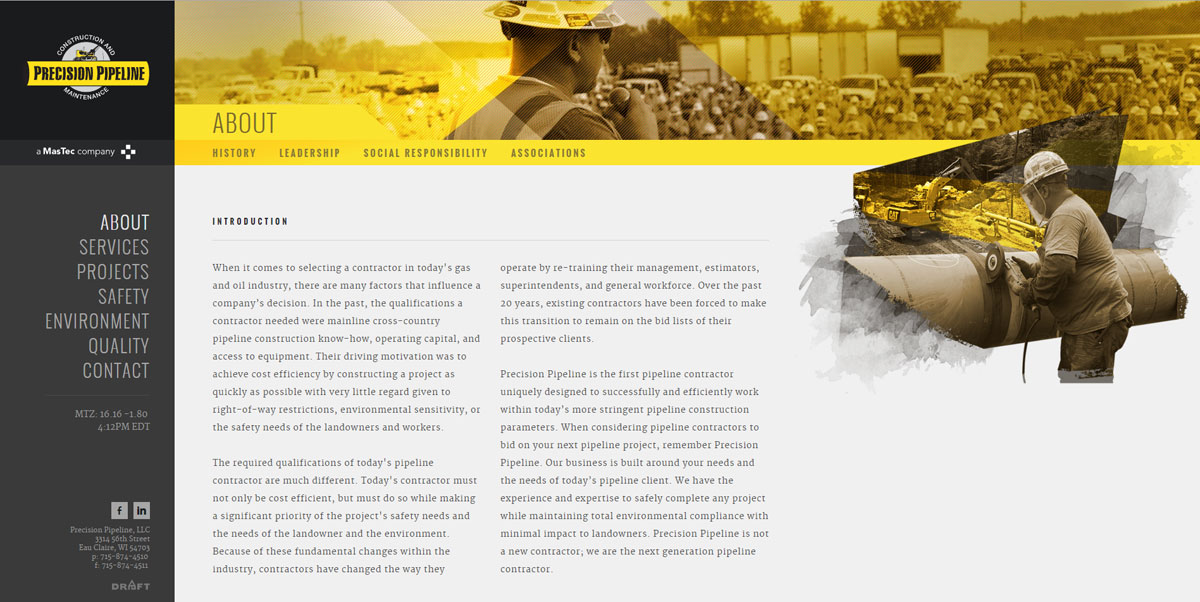 Professional, updated, consistent images make your brand identity stronger, which results in greater trust and higher conversion rates for your business. When you are in an industry with competitors, there will always be competition for customers and this is just one way to solidify customers.

---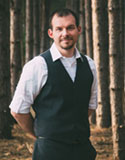 I specialize in commercial photography services like this. Corporate photography can also be considered industrial, business, commercial, executive, editorial, media, or even agricultural depending on the exact nature of the shoot and what the client wants captured visually. I give my clients a variety of images to choose from including many unique and captivating imagery. The client will receive environmental portraiture,  detailed close-ups, overall scenes, action captures, and anything else it may take to fulfill what they need. You can go here for more Commercial Photography Information.